Business Studies Recap Day 1 - Business Objectives
With the first set of exams just a few months away, we wanted to provide our users with a way to jog their memory about some of the key topics they most likely will have encountered a year or more ago, in Year 12.
What the EzyBusiness team have come up with are a series of interactive revision mindmaps. Within the revision mindmap are 30 flashcards covering a selection of different topics which are crucial to understand before sitting the summer exams. Each of the revision cards come with a supplementary explanatory video to discuss the core themes of each topic.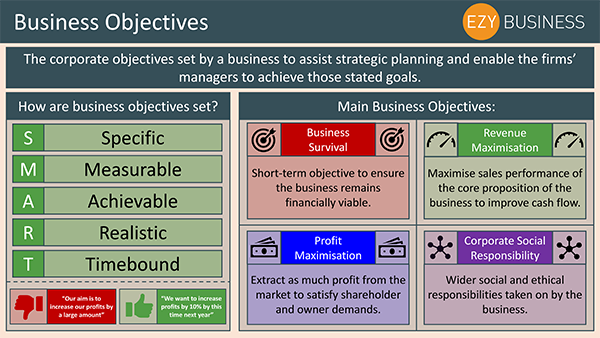 A good way to kick things off on day 1 is to look at some of the more conventional corporate objectives which businesses set themselves. The value of setting objectives in a business landscape is crucial if a company is to function as an entire organisation rather than separate departments. Objectives provide a business with a target that can be used as a barometer to assess and evaluate business performance over time.
Here Jack guides you through the corporate objectives revision slide:
Comments
No comments made yet. Be the first to submit a comment