Business Studies Recap Day 3 - Business Decision Making
Day 3 of our Year 12 Recap, we are moving on to analysing the decision-making process of a business!
Decisions involve a business weighing up a series of different influential factors and arriving at an outcome which is expected to yield the best result from the perspective of the company. When analysing in an exam the impact of a strategic change of direction or a change in the external environment you need to be comfortable with discussing the decision-making process and the types of decisions that are made.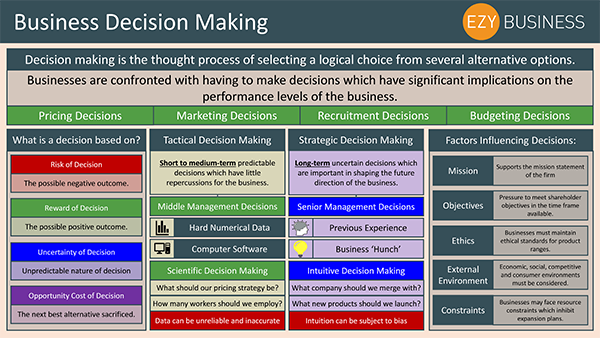 As businesses become more reliant on technology and data-driven systems, the art behind making decisions is also evolving. Businesses can now rely on statistical data to provide insight over the optimal decision to take. This is important because it provides more oxygen in the business to be diverted towards more important and challenging areas. However, there are still decisions that need to be taken that rely upon hunch and experience more than anything else. Understanding what approach to take for a business is a challenge in itself.
Here Jack guides you through the Business Decision Making revision slide:
Comments
No comments made yet. Be the first to submit a comment