Here at EzyEconomics, we recognise the challenges faced by the current cohort of 'guinea pig' students. Being the first year group to face the new, more demanding, A Level papers, is not an Ezy (pardon the pun! I'll stop now!) place to be! This has not been helped by way of the scant resources made available by the exam boards to provide practice opportunities answering new-format exam papers and the reduction in commentary given by mark schemes.
What are we providing?
To help teachers and their students, we have been busy compiling our first set of sample exam papers and associated answer guides. Today marks the launch of the first set of Micro Papers! There are papers available for each of the three main exam boards (AQA, EDEXCEL and OCR) with the papers tailored to the format students will face in June. More helpfully, we have spent a lot of time writing comprehensive answer guides to accompany each paper. These provide a commentary on how students can effectively structure their answers, alongside exemplar paragraphs for particular strands of the key assessment objectives: Knowledge, Application, Analysis and Evaluation.
Will my students have immediate access to the answer guides?
In order to make these sample exam papers as useful as possible to schools, we are restricting access to the answer guides to teachers only. This will allow teachers to use the question papers for homework or timed in-class essays before they themselves can distribute the answer guides to students to read.
When are the rest of the papers being released?
To complete this first of sample papers, the question papers and answer guides for Paper 2 (Macro) and Paper 3 (the synoptic paper) will be released on the 30th Jan and 6th Feb respectively. What's more, we will be releasing a second complete set of these resources on the 3rd of April!
How do I get my hands on them?
Good question! These resources are available for free to all schools subscribed to the full EzyEconomics service. To see what you are missing out on, schools who register will have free access to this initial launch of Micro Question Paper and Answer Guide. For schools not subscribed to the full EzyEconomics package - both sets of papers can be purchased for £125 + VAT (let us know and we will send you an invoice). This payment will be deducted in full if the school decides to purchase an EzyEconomics subscription anytime in 2017. As always, we offer all schools a free 30-day trial of the full service, so what are you waiting for - register your school now!
If you have any questions at all, please pop us a question using the live chat service found at the bottom right corner of the screen!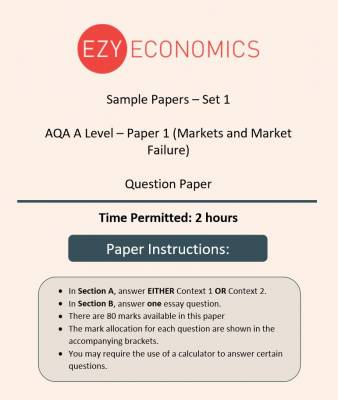 Comments
No comments made yet. Be the first to submit a comment