Weekly 5 News Review - 7th October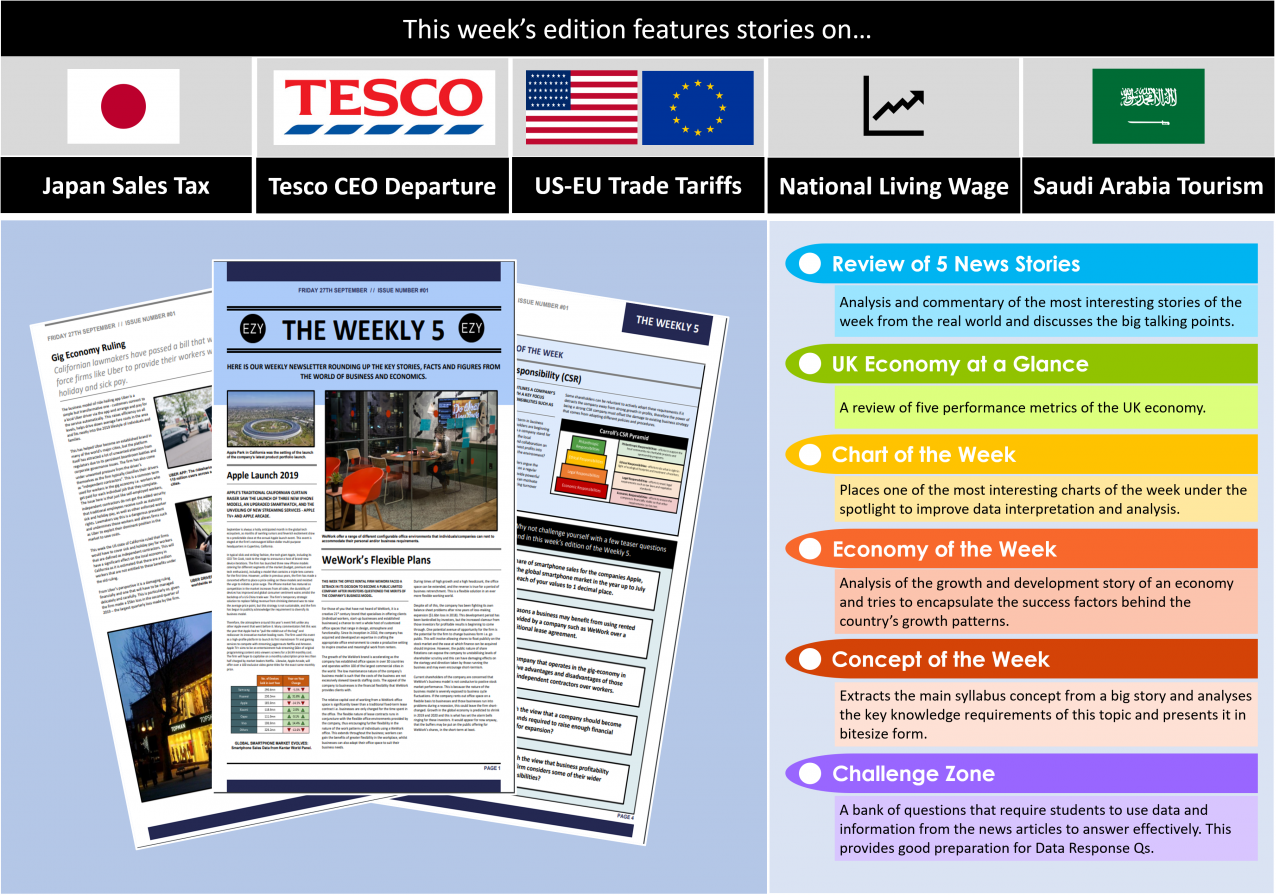 This week's edition of the Weekly 5 recaps some important economics stories of the past week. If you are an A-Level Business student these topics will help prepare you for the Global Business section of the course.
The main stories, as chosen by our team this week:
Japan - We take a look at the recent increase in Japan's sales tax in the context of an economy that has battled deflation over the past decade.
Tesco - After the announcement that the Tesco CEO will stand down at the end of the year, we assess how effective he has been in turning around the company's fortunes.
US-EU Trade War - We take look at the recent trade dispute between the United States and the European Union (EU).
National Living Wage Pledge - We report on the planned policy approach from the Conservative Party in relation to boosting the National Living Wage to £10.50/hr.
Saudi Arabia Tourism - We take a look at a recent policy initiative from the Kingdom to increase the number of tourists  to the country each year.
Alongside these stories you will also discover some additional features such as:
UK Economy at a Glance - Summarises the state of some of the UK economy's most important performance metrics.
Economy of the Week - A look at the story of how China re-invented its economy to become the second largest economy in the world.
Chart of the Week - We look at a chart that reports on the dramatic weekly decline in the value of the FTSE 100 Index.
Concept of the Week - We discuss the key knowledge requirements of trade tariffs in light of the story of the trade dispute between the United States and the European Union. 
Challenge Zone - Five questions that challenge readers to use the information and data in the newsletter to practice technique. 
Click here to access the full PDF version
Stay tuned for further editions of the Weekly 5 released weekly during term time!
Comments
No comments made yet. Be the first to submit a comment