Weekly 5 News Review - 11th October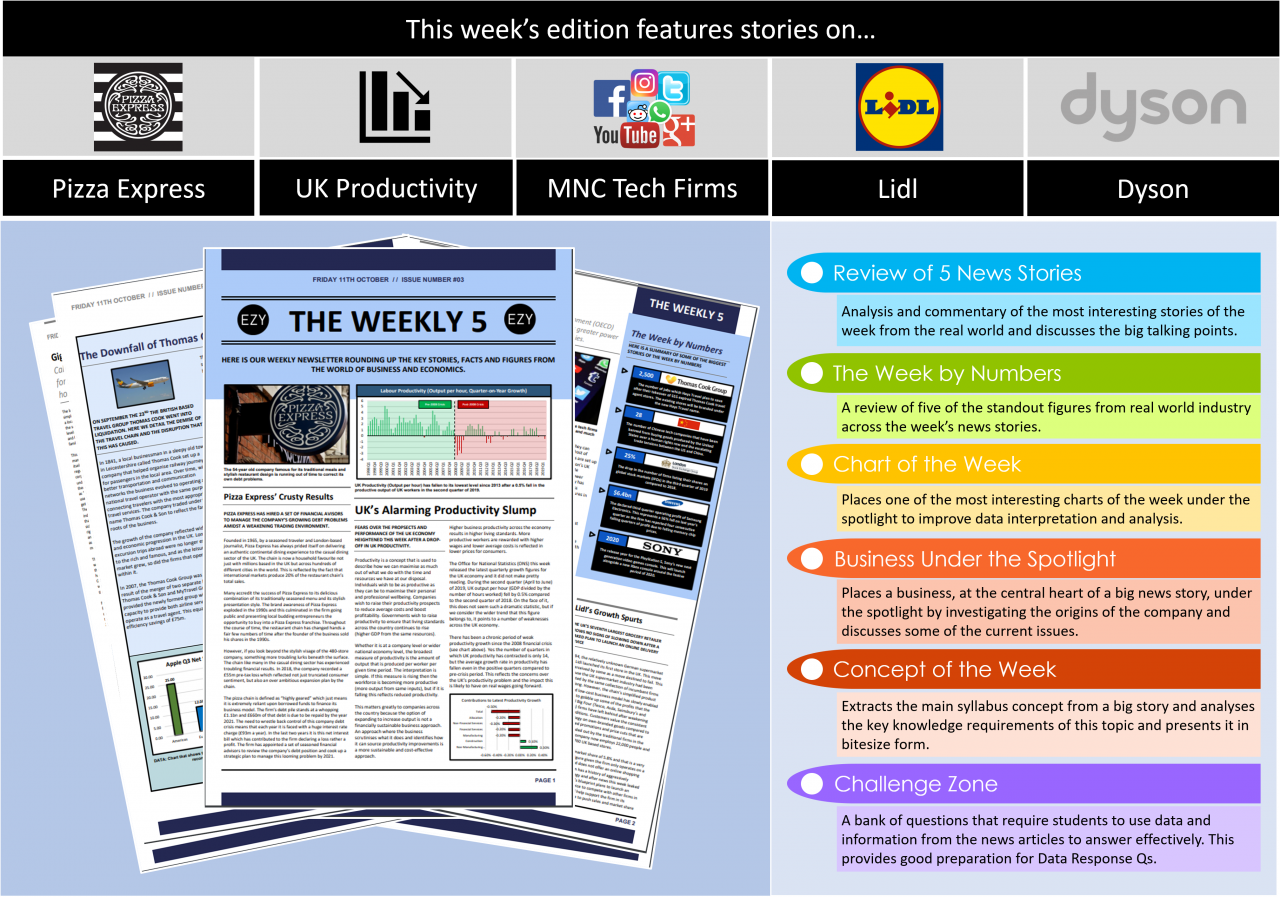 This week's edition of the Weekly 5 recaps some important business stories of the past week. If you are an A-Level Economics student there is an interesting article about UK productivity, as well as a story on global tax systems and standards.
The main stories, as chosen by our team this week:
Pizza Express - We take a look at the recent warning signs in the latest financial accounts of the restaurant chain.
UK Productivity - We take a look at the most recent data surrounding the UK economy on the economy's productivity performance.
MNC Tech Firms - We take a look at the proposals from the OECD on how to reinvent the global tax system to help recover lost tax revenue from MNC activity.
Lidl - We report on the leaked news that the supermarket chain Lidl is to launch a new ecommerce platform to sell their products over.
Dyson - We report on the scrapped electric car project of Dyson and discuss some of the reasons for this. 
Alongside these stories you will also discover some additional features such as:
The Week By Numbers - Summarises some eye-catching figures, statistics and metrics from the world of business.
Business Under the Spotlight - A detailed look at the recent collapse of travel group Thomas Cook.
Chart of the Week - We look at a chart that reports on the regional breakdown of Apple's Q3 net sales and how important it is for global businesses to cater to local markets.
Concept of the Week - We discuss the key knowledge requirements of the gearing ratio in reaction to the story discussing the latest results of Pizza Express.
Challenge Zone - Five questions that challenge readers to use the information and data in the newsletter to practice technique. 
Click here to access the full PDF version
Stay tuned for further editions of the Weekly 5 released weekly during term time!
Comments
No comments made yet. Be the first to submit a comment