Weekly 5 News Review - 27th September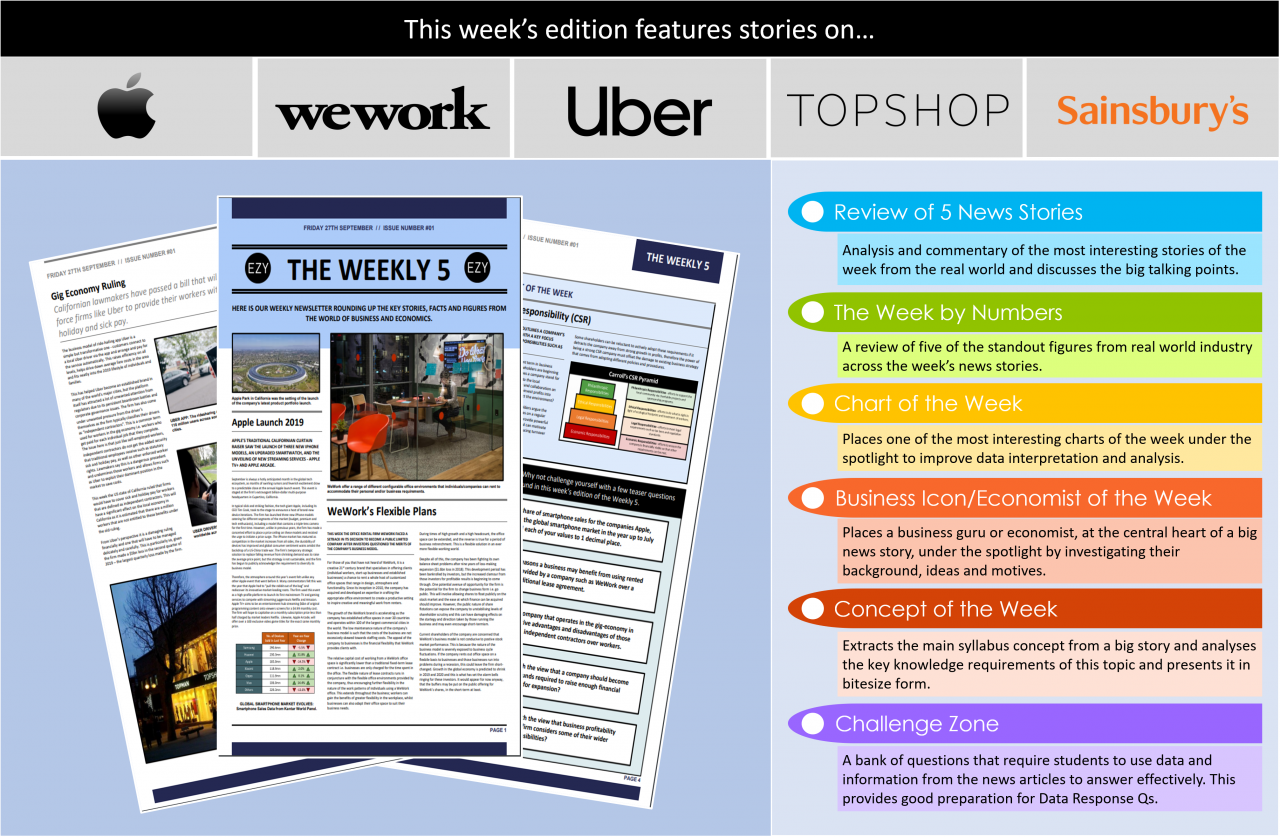 The Weekly 5 is back with a fresh new look! After three years of producing the Weekly 5, the team at EzyEconomics and EzyBusiness have combined their efforts to produce a weekly newsletter that includes features designed to recap the key talking points of the week, help students improve exam technique and their data analysis skills, and satisfy the appetite of those students who are passionate about the subject.
The upgrade has seen a host of new additional features built into the discussion about the current issues in real world business and economies. These features include the discussion of the key figures behind an economic theory or business idea, analysing the charts and big numbers that are making the headlines and a series of quantitative and written based questions which build upon the reports in the newsletter.
The editions for business and economics will run in alternative weeks during term time. This week's edition focuses primarily on business stories, but there is plenty of scope for crossover for economics students.
The main stories, as chosen by our team this week:
Apple - We take a look at what came out of Apple's September launch event for its new roster of products.
WeWork - We discuss the company WeWork and analyse why the business model of the company may hold back its growth aspirations in the future.
Uber Legislative Changes - We take a look at a recent legislative change in the US which is likely to dramatically affect companies like Uber that employ workers in the 'Gig Economy'. 
Topshop - We report on the latest set of disappointing results for the fashion retailer Topshop/Topman.
Sainsbury's - We highlight a recent proposal launched by the grocery retailer to reduce its plastic footprint. 
Alongside these stories you will also discover some additional features such as:
Week By Numbers - Highlights eye-catching figures from British Airways, John Lewis, Whirlpool, Google and Ovo Energy.
Business Icons - A look at the story of Jack Ma's rise to power as the founder of one of the biggest companies in the world, Alibaba.
Chart of the Week - We look at a chart that reports on the decline in the number of new UK start-ups in the last 12 months. 
Concept of the Week - We discuss the basic syllabus knowledge requirements of CSR in light of the story of Sainsbury's on page 3.
Challenge Zone - Five questions that challenge readers to use the information and data in the newsletter to practice technique. 
Click here to access the full PDF version
Stay tuned for further editions of the Weekly 5 released on Friday's during term time!
Comments
No comments made yet. Be the first to submit a comment