Important Update on EzyEducation Snapshot Booklets & HP Reveal App
This blog post provides details of some important changes to EzyEducation's snapshot knowledge organiser booklets and the associated augmented reality content. It covers:
The closure of the HP Reveal augmented reality (AR) app
How existing users of our snapshot knowledge organiser booklets can continue to access the add-on video content after the closure
How you can order heavily discounted copies of the remaining stock of original snapshot booklets
Our new snapshot knowledge organiser booklets, powered by the 'Zappar' AR app
Next steps
1. Closure of HP Reveal
Hewlett Packard's complimentary AR app, HP Reveal, is closing on the 10th January 2020. This means that the additional video support for our snapshot 'knowledge organiser' booklets will cease to operate from this date.
Although there was no guarantee that Hewlett Packard would provide access to this complimentary AR app indefinitely, we did not anticipate that the service would be withdrawn so abruptly. Unfortunately, we are not in a position to alter this decision and we apologise for the inconvenience this will cause.
We have been looking at alternative software since the summer. However, one of the issues in dealing with AR providers is that intellectual property rights and patents mean none of the solutions operate in a way that will seamlessly work with both the original booklets and any 'new generation' booklets. In view of this, we have reacted quickly to ensure sure that the video content remains available to our existing snapshot booklet users, albeit via a different means. 
2. How students can access the snapshot videos without using the HP Reveal app
To minimise the inconvenience to users arising from the closure of the app, we've taken steps to ensure that students can continue to access all the videos that support the snapshot booklet content. 
We have created PDF documents for each booklet. These support easy identification of videos via URL links embedded in the PDF. Students can add the PDF to their mobile devices and use this to access the videos as rapidly as would be possible using the AR app.
Click on the relevant subject image below to gain access to the PDF.
3. Huge savings on existing stock of our snapshot knowledge organisers
Although the closure of HP Reveal means that students will be unable to access the video content by scanning the pages of the snapshot booklets, the booklets themselves still provide excellent printed support for students.  What's more, students can still benefit from the video support, albeit via the PDF method outlined above.
As a result of these changes, we have decided to make the remaining stock of our snapshot knowledge organisers available to schools at the knockdown price of £2.00 per book + delivery costs.
Please let me know soon if your school might be interested in this offer as the stock will be sold on a first come, first served basis (we only have c.6,500 books available, which are spread across all subjects).
4. Introducing 'Zappar', the augmented reality app for our new snapshot knowledge organiser booklets
Since we originally adopted HP Reveal to enhance the learning experience for students, AR software has been developing rapidly.  With superior software now available, we have been exploring alternative augmented reality solutions.
Working with augmented reality specialist Zapworks (and its 'Zappar' app), we are now accelerating the launch of our new snapshot knowledge organiser booklets. The new booklets will be available in the coming weeks. They provide a number of key improvements in the user experience, including the following:
Set-up is far quicker – with a simple three-step process to install the Zappar app and activate the augmented reality content.
Students are not required to create a username or password and the app only secures access to the camera in users' phones or laptops i.e. not to their photo or video records.
There is improved app performance (due to faster processing of the video content as the app initially recognises small codes on each page rather than relying on the whole printed image to start activation).
Videos can either be played live or downloaded for subsequent viewing. This provides users with more opportunities to use WIFI to manage data costs.
Section revision pages can be activated providing rapid navigation between all videos applying to a particular section.
The initial activation of the AR content for each page will also provide a range of buttons allowing users to transfer to our main courses. These will provide access to more detailed content and test understanding of the page in question. We also provide access to some additional pdf content to create an exceptional blended learning experience.
In addition to the technical advancements, we have also created foundation versions of GCSE Maths and GCSE Combined Science knowledge organiser booklets.
Underpinned by a commercial arrangement between EzyEducation and Zapworks, the new booklets and enhanced augmented reality experience have the potential to provide students with a truly outstanding blended learning experience.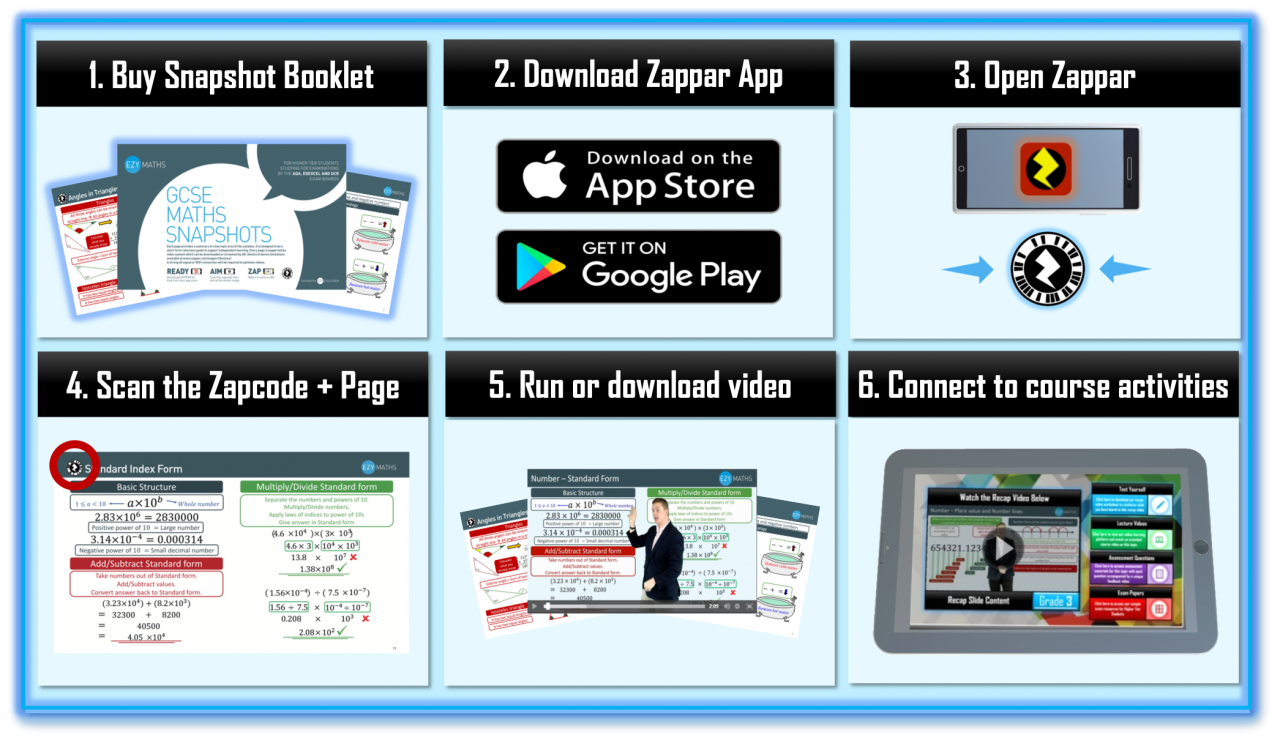 Of course, and as with all digital resources, there will always be an element of uncertainty regarding the continued availability of the AR service. This is the fundamental difference between providing physical learning materials such as booklets and providing virtual learning materials. Therefore, while we remain committed to providing resources that combine printed booklets with augmented reality content, any organisation buying the booklets should recognise that the nature of the service may need to be altered from time to time. 
The new generation of Zappar-powered knowledge organiser snapshot booklets will cost:
£4.99 each for GCSE Maths (Foundation or Higher) and A-Level Economics and Business
£6.99 each for GCSE Combined Science (Foundation or Higher) or GCSE Separate Science (3 books)
5. Next steps
If you'd like to discuss any of the issues raised in this note or if you'd like to place an order for snapshots, please contact us.
Thanks for your patience in this matter and your continued support of EzyEducation. We wish you and your students a very successful 2020.
Comments
No comments made yet. Be the first to submit a comment