New spectacles for the online and socially distanced teacher!
When socially distanced classes start how will you look over a student's shoulder if you are not able to walk freely around the classroom and need to maintain a 2m gap? How will you see what progress has been made?
The answer to this question is that you won't, and you may not be able to do so for some time. This means that teachers will be faced with much the same problem as the lack of intel in online lessons.
This is where good tech can help to improve class awareness. It is almost like providing teachers with anew and more powerful pair of spectacles.
Currently an online lesson might look like this: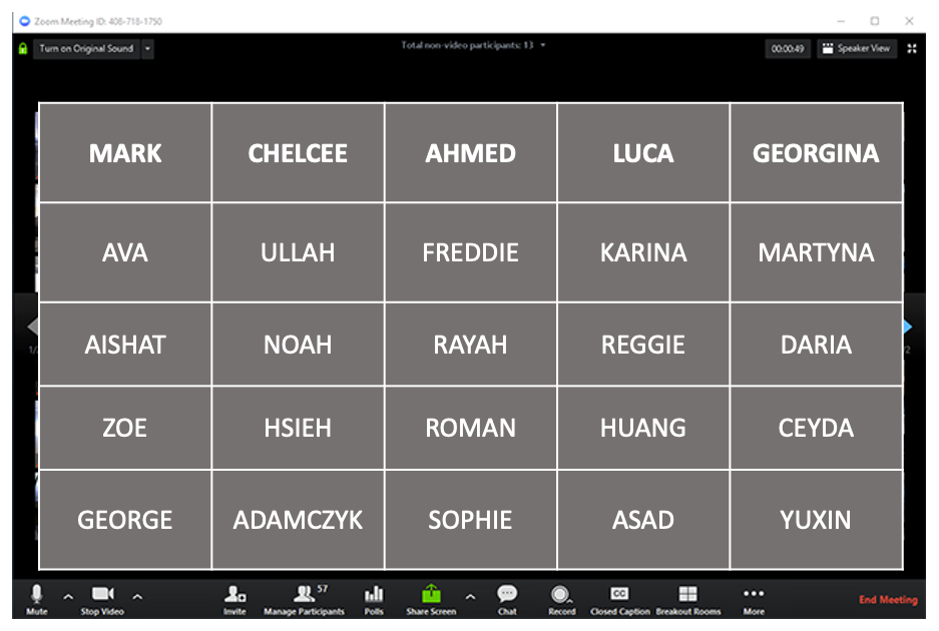 Depending on school policy, the video cams might be switched on. However, this may not help to a great extent as it takes a fair bit of effort and expertise to control these sessions which may not provide the helpful feedback one might expect. The absence of reliable cues is perhaps the second most frustrating part of such lessons, especially if students are working with pdf/paper resources. The most difficult part is of course marking the activity after the lesson has finished.
It is always possible to do this yourself and create simple quizzes using the online lesson software. But they will be simple, and preparation will eat up time. This is why the smart approach is to support online lessons by using off the shelf activities which empower simple monitoring and control of sessions. How might this work with EzyEducation?
Set an activity for the lesson timed to finish when the lesson ends.
Introduce the lesson and ask students to log in and start the activity.
Open additional screens to monitor the activity. By refreshing these on a regular basis.
After 5 minutes you would ask the students to pause and review progress. Unless the exercise is automated and based on sophisticated material this would be tough. However, by monitoring progress digitally, you might be ready with some targeted reviews: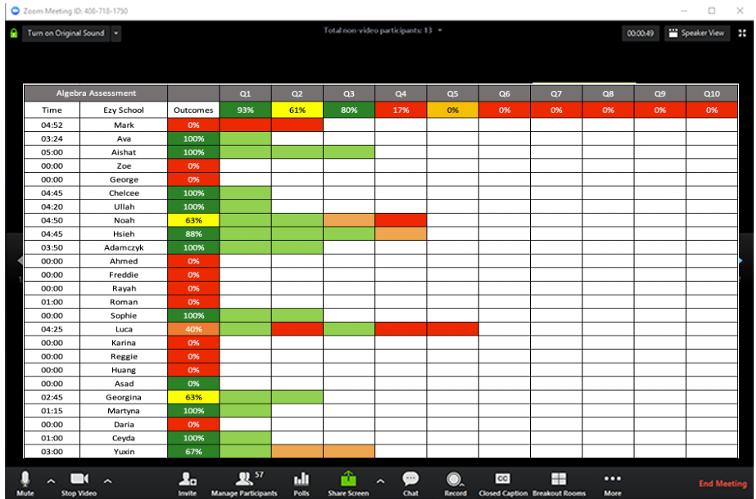 Some possibilities: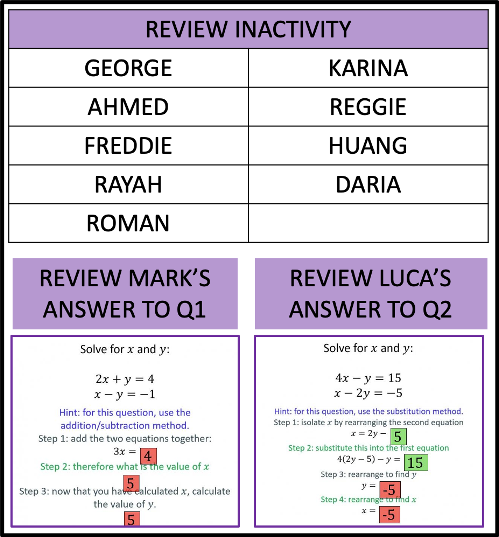 Instruct students to continue and continue to monitor. Pause students after 15 minutes for a deeper review informed by more data.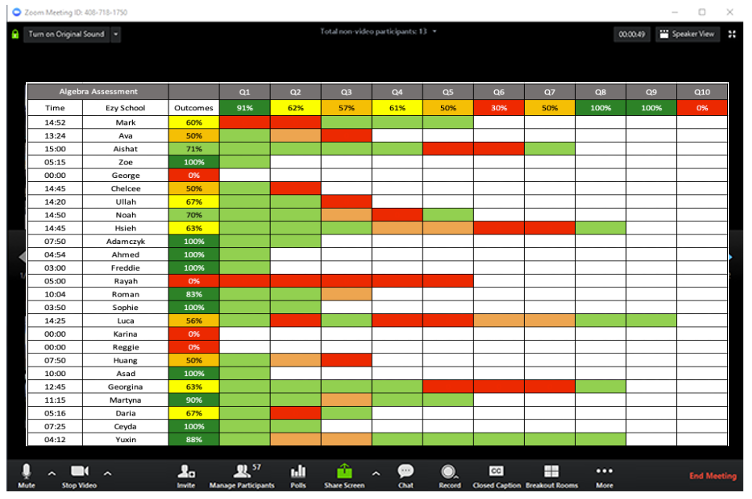 By keeping an eye on progress with regular refreshes, the interventions at this point would be quite clear. Some possibilities are: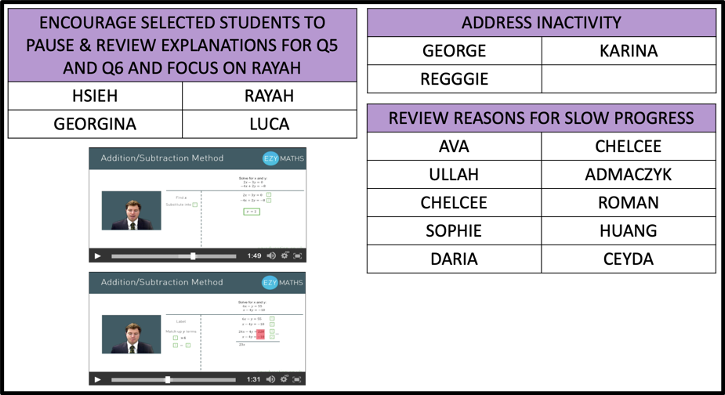 Continue until the end of the lesson. Set additional exercises for faster students if necessary.
End of lesson review using learning maps.
Bulk download student reports and create a folder to maintain records. Repeat for each exercise. 
Socially distanced classes
When schools re-open the difficulties will still exist as social distancing will also complicate physical classes. However, a hybrid approach (teacher and tech) will work more effectively in a social distancing context as the teacher is present in the room and there might even be space for a socially distanced 121. It might also make sense to run the lesson with students connected using online lesson software as that would improve 121 communications and might help manage class disruptors.
There will be considerable difficulties with paper-based learning within a socially distanced class. The most effective way is for students to be working on computer-based activities with advanced monitoring to support teachers. Everyone in their seat, including teacher!
From a hygiene perspective it would obviously make sense to work on a "bring your own device" basis, even if the school has provided the device. EzyEducation courses will work as long as a device has a screen and WiFi.
Working with social distancing rules to overcome them
If this approach is used it might also be possible to avoid reduced class sizes and fewer classes as a result if some of the class attend remotely.  This would connect students in two locations (some at home and some at school). It would even be possible to rotate lesson location (half at home and half at school).
Although this might seem daunting there are relatively few steps involved. A little time invested in familiarisation will make teaching far more effective than it might be without this sort of support. Not only while online lessons last, but when socially distanced lessons commence and present a wide range of issues of their own. 
Itis just possible that this is the chance to invest some time in change to create a brighter teaching future.
Comments
No comments made yet. Be the first to submit a comment