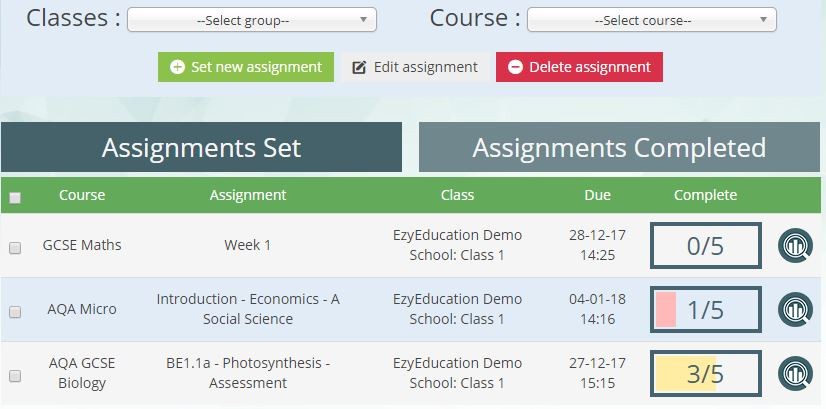 One of the questions we have encountered a lot when helping schools get set-up on the EzyEducation platform is "How do I set work for my students?". We haven't really had a great answer to this up until now, mostly directing those interested to use the 'announcements' tool and copy and paste links to the desired activities.
This is why we have been working hard to develop functionality which will make setting work and monitoring student completion a breeze. Today we have launched our 'Assignment Hub'. This allows you to set an EzyEducation activity (or a complete unit/module) and monitor its completion in 4 simple steps:
Of course, we are not expecting every school to immediately abandon their current methods of setting work and communicating with their students – homework planners and specialist homework tracking software do a great job of that! The Assignment Hub instead aims to make using the platform easier for students and teachers. Teachers can track student activity and completion more efficiently, whilst students can find the activities they have been asked to complete with a single-click from their learning zone home page.
As a part of this development, our learning zone home page (the page you hit when you first log-in) has been given a re-vamp. The links to the Access and User Grades Reports, which used to sit on the right-hand side of this page, have been placed into 'Tracking'.
Our Assignment Hub is just in its first-stage of development. We have tried initially to keep it as simple as possible and your feedback will help us, as always, to establish the priorities for its development.
Thank you for your continued use of EzyEducation and we hope that you find the Assignment Hub easy to use and a useful tool for managing your students' activity.
Happy Holidays from the EzyEducation Team.
Related Posts
Comments
No comments made yet. Be the first to submit a comment