Teacher Assessed Grades II - New Knowledge Audit Report
Course Statistic Report
Ready and waiting for teacher assessed grades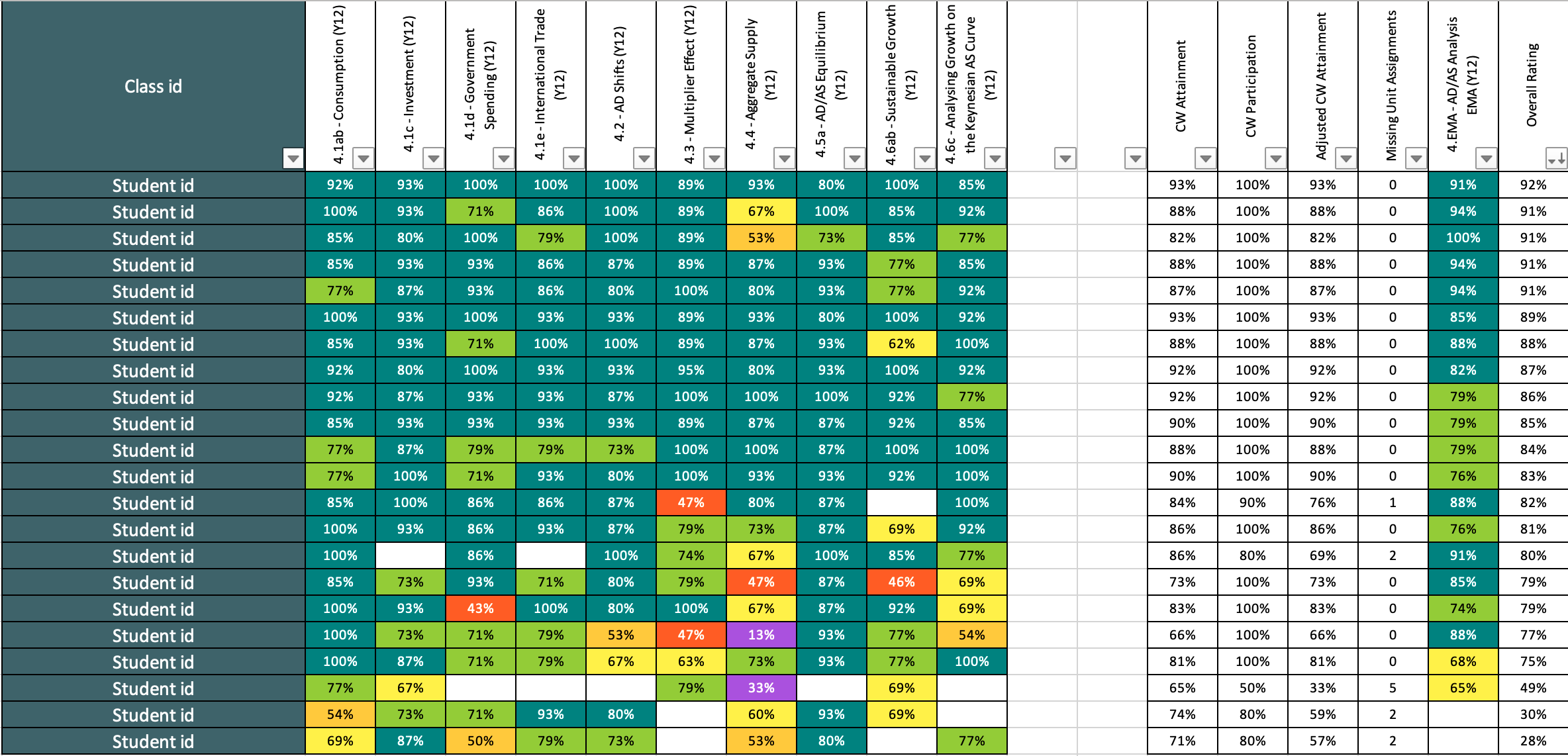 A BETA version of a new report that takes a course level view of student outcomes is now available. The aims of this development are to provide:
Access to additional automatic data analysis that summarises the breadth (areas covered) and depth (outcomes achieved) of engagement with examination board LOs. 
A framework for managing and encouraging students to systematically navigate the content within courses.
The report:
Is accessed via a new button (Course Statistic BETA) to be found at the top of the teacher gradebook page. Prior to activating the report users should adjust filter settings to "all time" and select a class.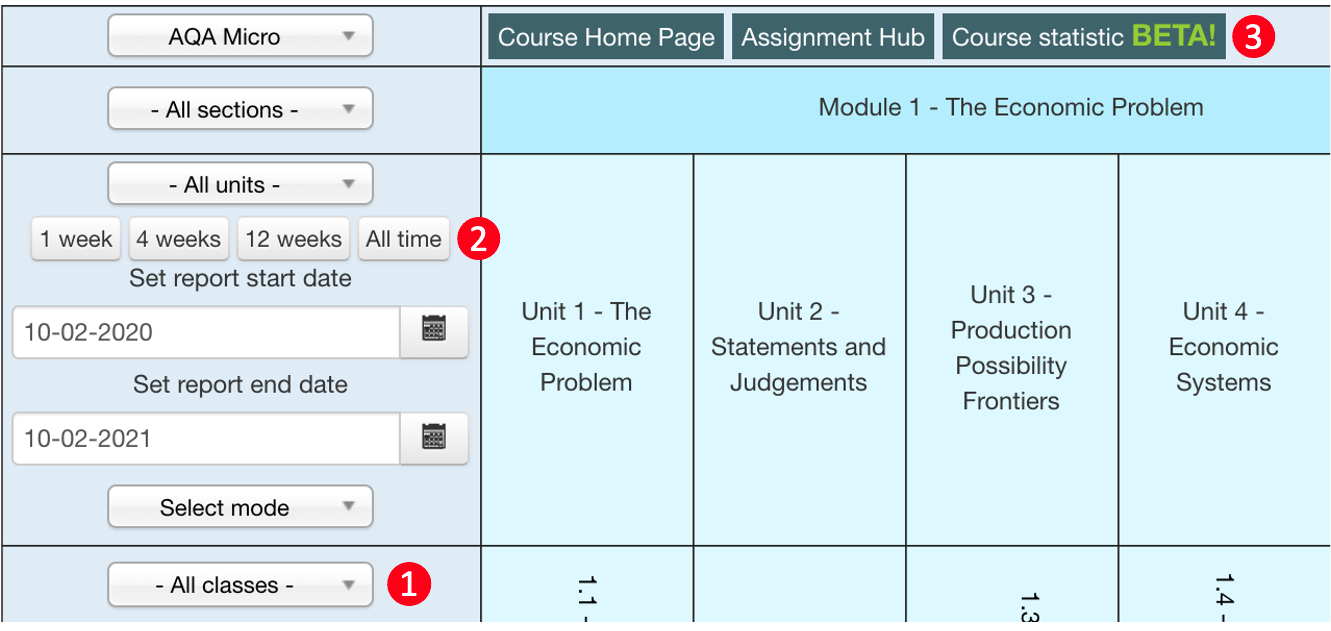 The button will download an excel report that provides:

A separate tab/sheet for each section detailing the outcomes for all completed assessments and a range of measures.

Coursework attainment (CA) = Arithmetic mean of unit assessment outcomes with missing attempts included as 0%.
Coursework participation (CP) = the percentage of unit assessments completed
Adjusted coursework attainment (ACA) = CA*CP
Overall rating = The average of ACA and the ESA outcome (EMA for EzyEconomics). Anything incomplete is counted as 0%.

A sheet summarising the overall ratings from each section and an average of the outcomes for each section with missing ratings counted as 0%. Here is an example at a school where the Y13s have two modules in the Economics Macro course to complete (the report will pull down legacy data in the new format).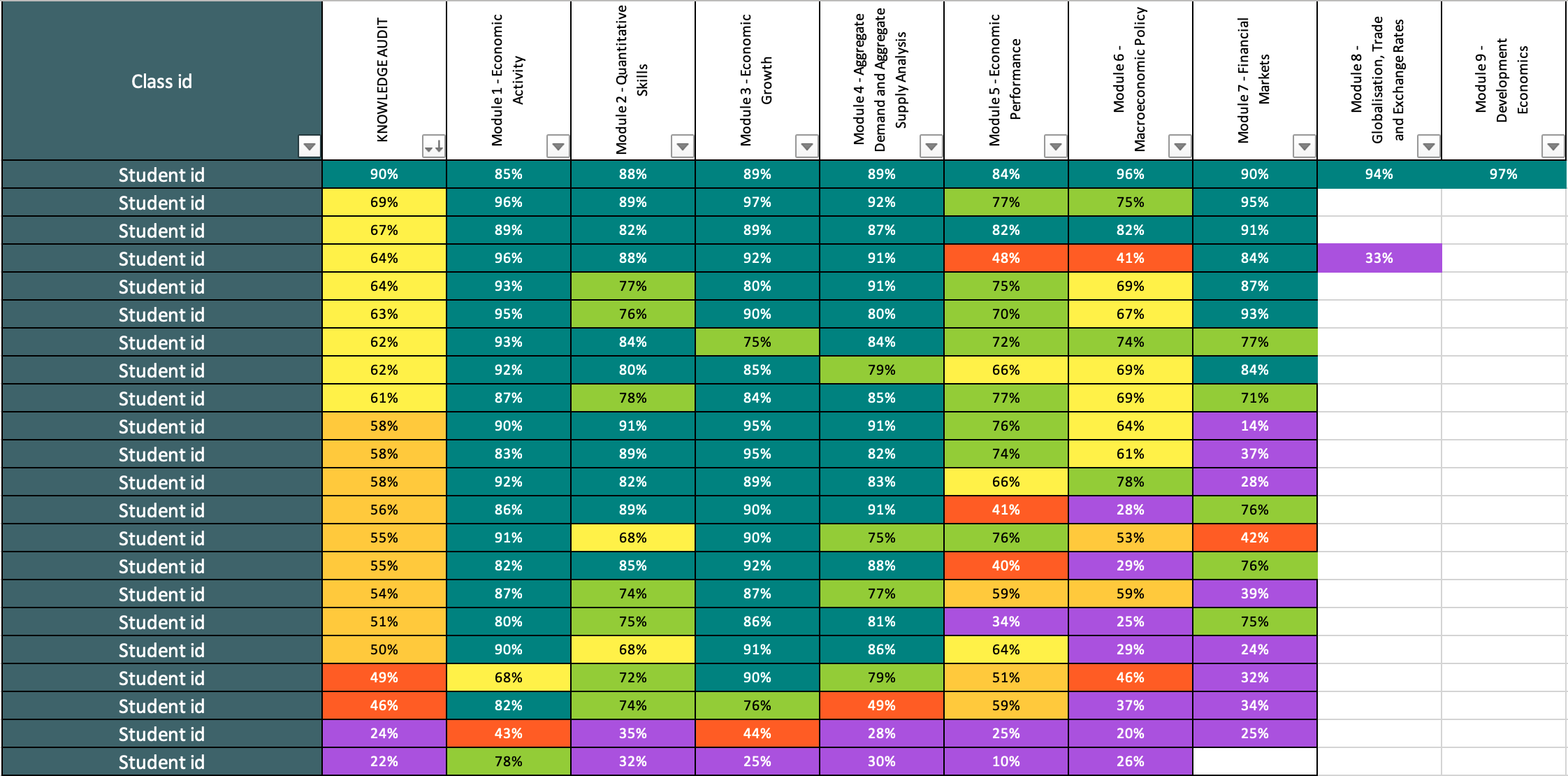 It is relatively easy to edit the sheet and apply your own parameters. For example, edit units included, remove colour formatting. 
Consultation
Although the report is available to use now we are open to amendments. I suspect the key aspect might be the wighting applied to the ESAs (EMA in Econ) and also the approach taken to incentivise completion of all assessments. 
Now we have established the feeds from the database (complex!) we have base to work from. The most obvious iteration would be a personalised report for each student with bulk download options. 
At least one of our schools (Upton Court Grammar School) has used similar data to populate an email merge exercise to students. 
Please advise any unique ideas that come to mind.
Feedback to

This email address is being protected from spambots. You need JavaScript enabled to view it.
EzyEducation
February 2021
Comments
No comments made yet. Be the first to submit a comment