Required Practical Practice Questions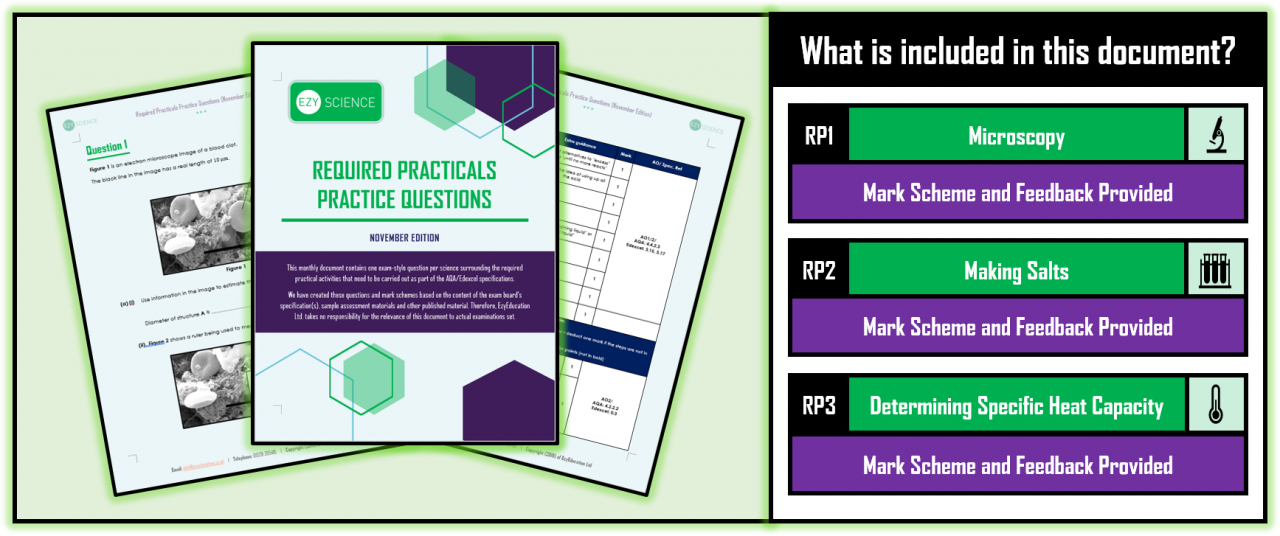 When reading the examiners' reports for the 2018 and 2019 GCSE Science exams it is clear that there is a good deal of room for improvement in students' responses to questions relating to the Required Practical Activities (RPAs). For example, in the 12 Foundation Tier papers for the AQA Separate Sciences and Combined Science examinations, more than 50% of the marks relating to the RPAs were scored on two papers only. This situation was particularly acute in the Combined Science papers. While the picture was slightly more encouraging for the Higher tier papers, it was only on very few occasions that significantly more than 50% of the available marks were scored.
So, why do we find ourselves in this situation? A number of issues are identified in the examiners' reports, and it is worth looking at some of them.
Examiners suggest that students may not have carried out certain RPAs in the first place, and when they are able to list the steps involved in particular experiments, they are often unable to explain the purpose of those steps and the science underlying the experiments.
Understanding of variables, particularly control variables, was found to be wanting in many cases.
Applying knowledge of those RPAs identified in the specifications to new and unfamiliar situations seems to have been particularly challenging to many students.
What, then, can be done about this. It seems clear that it is not enough simply to carry out an experiment and then move on. We need to recognise that questions about the RPAs can be asked in many ways and then look at how we can better prepare our students to respond to unfamiliar approaches to experiments. All of this, of course, takes time and we recognise that for teachers this is in short supply. So we have decided to provide a regular supply of resources that will help teachers address these issues.
At EzyEducation we believe in coming at all ideas from as many different directions as possible, and this is reflected in the Required Practical Practice Questions that we are providing here and will provide in the future. When writing these questions we have spent a good deal of time thinking about and anticipating the different ways in which the understanding of the RPAs can be tested and we are confident that in answering our questions students will be exposed to the relevant ideas in ways that they will not experience when answering questions from past papers and textbooks. 
I recognise that students marking their own work can be a valuable exercise, especially if it helps them identify and correct their own misconceptions. However, as someone who has marked exams for over fifteen years I also recognise that there is far more to marking a response than checking it against a mark scheme. Hence, our mark schemes contain a good deal more detail and guidance than those normally provided by exam boards so that effective learning takes place alongside the assessment.
Comments
No comments made yet. Be the first to submit a comment