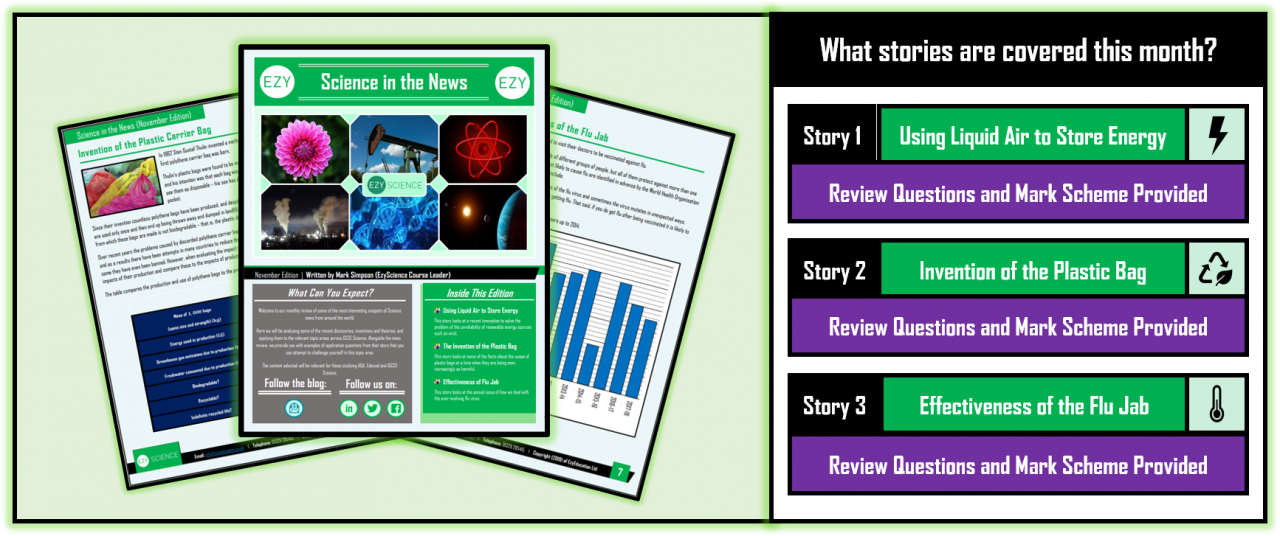 There are two main aims to this monthly EzyScience newsletter:
To demonstrate how the science our students study at GCSE relates to the science being conducted every day around the World and to show just how relevant their GCSE science studies are. As well as encouraging a general interest in science we would also hope to help prepare students for those unexpected questions that, at first glance, are not connected to the content they have been taught and which always raise such a stink on Twitter immediately after particular papers have been sat!
To provide students with opportunities to practise the more generic data analysis and communication skills that can turn a good exam performance into an outstanding one.
The newsletter is divided into three sections, each relating to recent developments in one of the three main science areas - Biology, Chemistry and Physics. Each section has a short description and explanation of a particular issue and a number of questions relating to it. These questions require the application of the skills key to science rather than specific knowledge of course content, including those of basic mathematics, data analysis and clear communication.
Examiner feedback for the Combined Science course over the past two years reveals that around 50% of the marks allocated to maths skills have been scored, although this does vary widely over all of the papers. For the separate sciences this rises to around 60%, which still leaves a lot of room for improvement. The questions provided here, along with the detailed mark schemes that go with them, aim to address the skills that might help your students buck the trends and pick up those marks that are being missed by others.
Click here to download the main document
Comments
No comments made yet. Be the first to submit a comment