We have introduced a number of improvements to the Assignment Hub.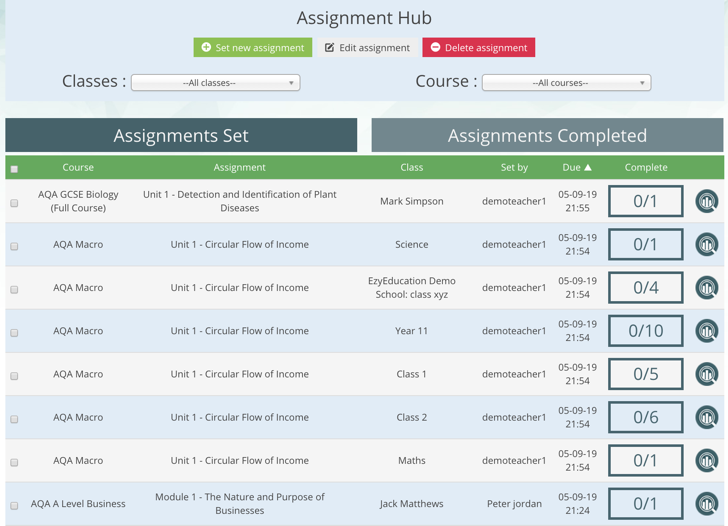 Please see below for details and instructions:
Assignments can be set for single classes, multiple classes or for individual or small groups of students.
Click on "class" and select however many classes you wish to select for, select a due date, close, set.
Click on "student" and select the student or students you wish to select work for and complete as above. The "student" filed will show all students. If you wish to reduce this number simply select class first before then selecting from the students in view.
The assignment pages now show which teacher set the work and have a sort option available to rearrange the order of assignments by the due date.
Any teacher can now set work for any class.
The grade book report can now be accessed directly from the Learning Zone home page i.e. report icon visible. This applies to work set for single students and means there would be a filtered grade book for one student or for all the students the work was set for.
Students will now have access to a retake button in the completed assignments section.
Assignments are now attached to students (previously classes) so that assignments from all previous classes remain visible when students change class.
School reps will now appear in the teacher tab. If you select and the edit you will see that they can now be specifically added to classes.
The hub now shows who set work. However, this has not been tracked historically and will not show on legacy assignments. You will see -//- in the column.
There is a sort arrow above the due dates so that assignments can be re-ordered by the due date.
Overdue assignments are now highlighted in student pages with indigo (previously red).