5 Major Takeaways from the BETT Show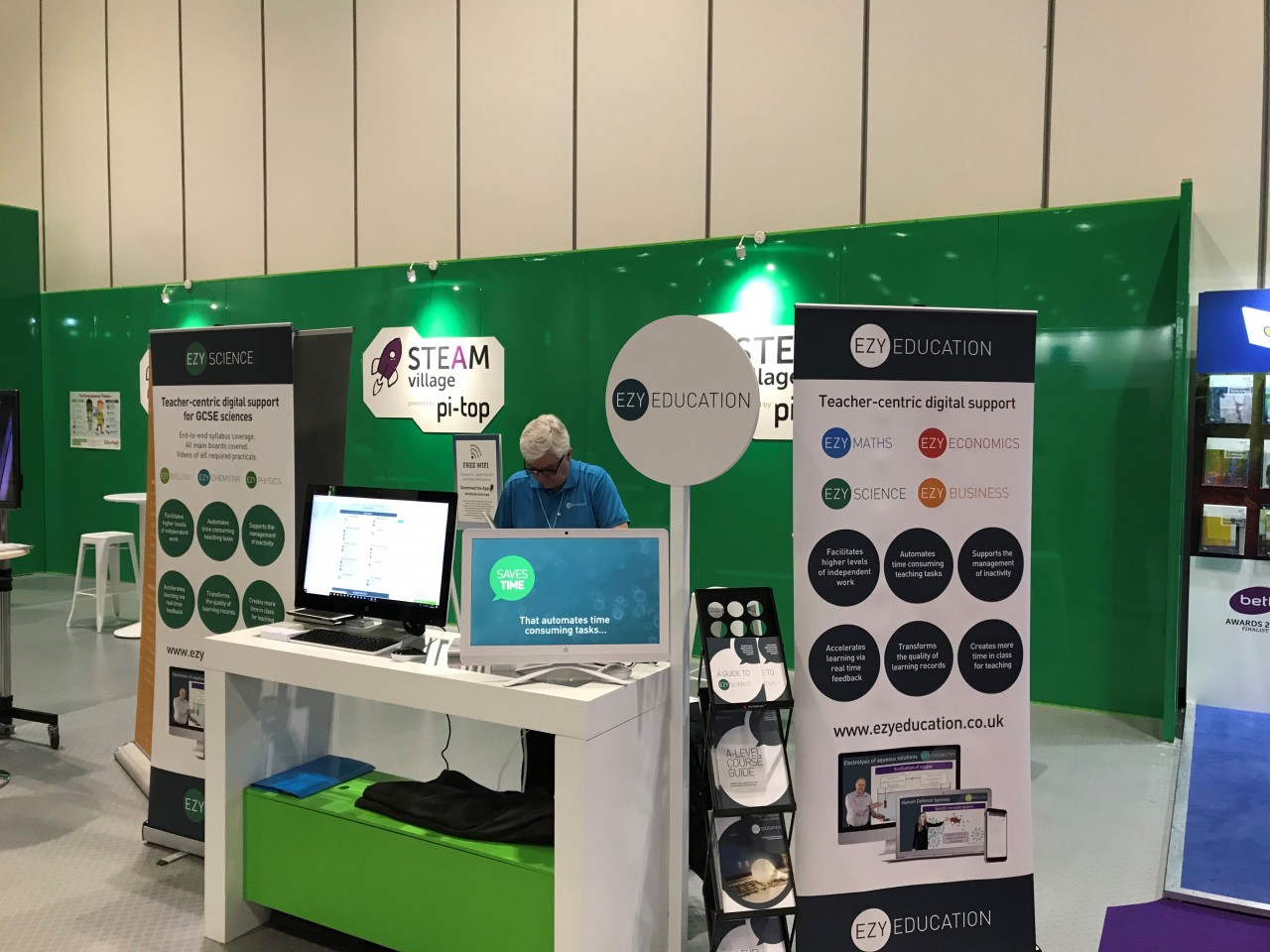 The BETT Show last week was a fantastic event for EzyEducation. Teacher feedback from those who took a look at our courses was superb and it is always nice to be able to match names to faces when meeting staff from schools already using EzyEducation.
Of course, one of the other benefits of being at such a large event like BETT is that it affords the opportunity to collaborate with all manner of interesting people from the education sector and gain some insight into the state of the EdTech industry right now. Our Proposition Director, Jacob Poulton, took away the following highlights from the BETT show:
The use of technology in education is growing… but growing slowly.
On Friday, Robert Sulley from Hodder Education gave a talk which leaned heavily on Hodder's internal data. He asserted that of UK schools' resources budgets, over the last decade the share of spend on digital resources has increased from 10% to just under 20%. Whilst this may seem significant on the surface, when you consider that the iPhone was only born in 2007, it is a rather lethargic rate of progress. Print still dominates revenues for major educational publishers and that looks set to continue for some time yet.
The allure of hardware is still strong.
Find yourself in the heart of the BETT Show and you will be surrounded by impressive hardware. Ever-larger interactive whiteboards, ever-lighter in-class laptops, ever-subtler school CCTV cameras. Say's law states that 'Supply creates its own demand', and talking to SLT members at the show, there is clearly still an appetite for purchasing and installing hardware. It is easy to understand, and its physical nature makes it very visible within the school environment – it is clear that investment in technology has been made when each classroom has a new set of iPads. The key to the success of hardware procurement, however, is that thought has been applied as to how it is going to be used.
Schools are learning lessons from previous initiatives.
It was very refreshing to have numerous conversations with teachers and SLT members where there had been clear reflection upon the success or otherwise of past initiatives and little reluctance to admit where things have not worked well. In particular, schools were happy to discuss where the products of the big brand names had not lived up to expectations.
Ease of implementation and use is vital.
One of the largest lessons schools seem to have picked up on is that additional technology needs to help relieve teacher workload, not add to it. The key to this is making software simple to use. There are many great VLE systems out there which offer a wealth of functionality. The problem at the heart of this is that they centre around teachers developing their own digital resources and uploading to the system. There simply is not the time in the school day to produce materials of the standard that a bustling office of full-time resource developers can build.
Department budgets are squeezed, but SLT do have access to funds.
School budgets are unquestionably under pressure. The easiest outflows of money to squeeze are discretionary departmental budgets. Several times the beginning of a conversation with a Head of Department would be 'I have no budget for anything'. Our experience, reinforced by the BETT Show, is that SLTs are genuinely looking for technology that their staff like and would use, that will improve learner outcomes, and that represents value for money. Funds are available for these types of initiatives and departments typically have a very positive experience when requesting additional funds from their SLTs for them.
Next January we will be back to do the BETT Show all over again. See you there!
EzyEducation is a game-changing digital platform which provides the most formative assessment experience available. Highly structured assessments with intelligently-designed scaffolding are supported by unique feedback videos after every single question.
Covering GCSE & IGCSE Maths and Science, and A Level Maths, Business and Economics, schools are using EzyEducation as an immediate Year 11 or Year 13 intervention.
To be set up with no-obligation access to take a look around the platform for yourself, please fill out our enquiry form.
Comments
No comments made yet. Be the first to submit a comment